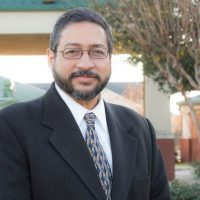 Chicken Jail Break from Pastor Angel Rodriguez for November 19 2021
I have never owned chickens before, but that morning, there were no chickens in the coop.  The first thing that crosses your mind is, did coyotes, or wolves help themselves to an evening and morning feast.  To my surprise they were all hiding at the side of the house.   We tried different methods in leading them back to the coop.  First was the food bribery method. At first it seemed to work, until one chicken saw me the one after another changed course.  They enjoyed being part of the open range.  So quickly we chased them back beside the house. 
            We tried the open arms flapping method to chase them back to their coop, which worked for two minutes, and then one decided to go off on its own.  Finally, we did decided to do it the old fashioned way. Corner the chickens into the grassy part of the backside. One by one the chickens were scooped up from behind and held firmly so that the wings would not flap.    I was exhausted in chasing our chickens.  I learned a valuable lesson that day. Never ever leave the chicken coop door in the open position.  
            Today, all chickens are accounted for. All chickens are doing well. All chickens are laying eggs.   However, the chickens and I never had a conversation.  They never knew that they were in danger of being a target of the wild animals that roam our yard.  I could not communicate with them.  I was not a part of them.  It's the same way when Christ decided to join His creation.  He became part of us, so that the message of hope and salvation could reach us.  He told us of the dangers of the enemy.  He also explained to us that He was coming back to take us home.  It is still a mystery about His birth, but one thing we know is that He was still fully God.  "And we know that the Son of God is come, and hath given us an understanding, that we may know him that is true, and we are in him that is true, even in his Son Jesus Christ. This is the true God, and eternal life." 1 John 5:10
            I could never reach the chickens, all I could do was grab them and bring them to safety.  Christ on the other hand, could reach His creation.  He came down to reach us. He left heaven and His safe surroundings.  He came in the form of humanity, and He reached down and gave us a message.  God is love. That message of Love still rings through out humanity.  I love how simple the Gospel message is.  "in order to save humanity, Christ came down to the level of humanity." The upward Look p.195
May we never forget, what Jesus did for us, in order to reach us.